Highly Rated Prince Rupert Hotel For The Business Traveler
Crest Hotel ensures each room is well-equipped for business travellers, including a comfortable workstation, wifi and complimentary long distance telephone calls. If you are coming to Prince Rupert on business, The Crest makes an excellent choice.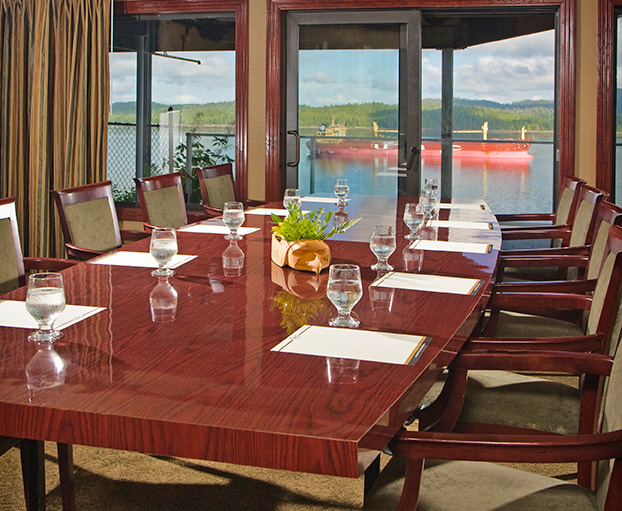 Hotel Room Amenities for the Business Traveller
When it comes to booking business travel, The Crest Hotel makes an excellent choice. Every aspect of our hotels – staff and facilities – is in tune with your business needs. We offer:
High-Speed Wireless Internet Access, All guest rooms, meeting rooms and public spaces, such as lobbies and lounges offer complimentary high-speed wireless internet.
24-Hour Fax Service – Outgoing faxes are sent immediately after pick up; originals are returned with a transmission report. Fax supplies, such as cover sheets, are part of the desk supplies. Incoming faxes are delivered to your room immediately upon receipt.
Complimentary local and long distance telephone calls throughout North America.
Complimentary photocopy service.
Two phones: One fixed and one cordless speakerphone.
Coffeemaker with complimentary coffee and tea.
Terry cloth bathrobes.
Iron and ironing board.
Health club / fitness facilities.
Meeting and Banquet facilities in the Hotel.
The Crest Hotel proudly elevates your Prince Rupert meeting into a flawless and memorable experience.
With us, your meeting will be effortless… and exceptional. Our harbour front location offers 6,000 square feet of elegant meeting rooms.
We offer newly renovated, state of the art event spaces all equipped with advanced audio-visual technology.