A meal with a view
Crest Hotel offers dining options to suit every taste, and your meal comes with an incredible view. Both our restaurant and lounge feature waterfront seating for an expansive view of Prince Rupert's harbour. You can also pick up snacks and coffee to go at our café and enjoy in the comfort of your room, where the windows open to breathtaking mountain, harbor, or city scenes. From fine dining to fresh muffins, we have you covered with the dining options at Crest Hotel.
The Waterfront Restaurant
You won't know where to look first—the stunning view of Prince Rupert Harbour and Tuck Inlet, or the enticing menu featuring fresh Pacific Northwest ingredients handled with international style. Start your meal with a delicious shareable plate, such as the fresh BC mussels with green curry. Move on to a tempting principal plate, perhaps the waterfront lobster coquille with scallops and mushrooms, or the cowboy ribeye steak with demi-glace and potato du jour.
Round out your meal with a glass (or bottle) of wine from the international wine list. Local BC wines feature prominently on the menu. For chicken, seafood, and vegetable dishes, try a glass of Nobel Ridge Pinot Gris. For beef and lamb, consider the Burrowing Owl Syrah. Celebrate special occasions with one of the Interesting Reds or Interesting Whites on the list, or toast with a glass of Cipes Brut from Summerhill. Our Sommelier would be happy to assist you in selecting a wine to compliment your dinner.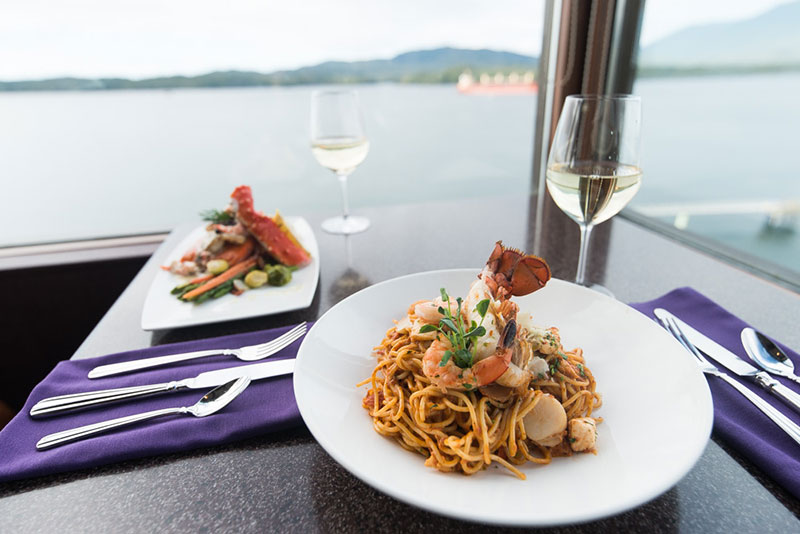 Charley's Lounge
Enjoy the brisk coastal air and a feast for the eyes with a waterfront view at Charley's Lounge. The heated patio makes a popular gathering place for both visitors and locals, where you can enjoy a cocktail or a glass of wine, a plate of shared appetizers, or a full meal. A variety of draught beers are available as well, including local craft brews, Guinness, and Stella.
Come for lunch and nibble on a plate of fried calamari with old bay seasoning, or tuck into a bowl of authentic butter chicken with basmati rice and grilled naan. Sip a classic Cosmopolitan, a Dark n' Stormy, or keep it simple with a Glenlivet single malt. Top-notch food, excellent drinks, and an incredible view make Charley's Lounge a place to keep coming back to.
Crest Café
Getting started in the morning is easier with a convenient and welcoming location like the Crest Café. Pick up a coffee or tea before you set out to explore Prince Rupert, or purchase muffins and pastries to bring back to your room. For a quick meal during the day, you can find sandwiches, the soup of the day, prepared entrees, and bottled water and soft drinks for sale. Crest Café offers a convenient and tasty way to get your sustenance during your stay.
When you stay at Crest Hotel, you'll find a wealth of dining options to make your stay both memorable and delectable! We look forward to welcoming you to scenic Prince Rupert and the flavours of the Pacific Northwest. Contact us at 1-800-663-8150 to make a reservation.