The Crest may be modern day Prince Rupert's premier hotel, but there was a time when the story could've been very different.
Prince Rupert's visionary founder, Charles Melville Hays, dreamt of a world-class hotel along the waterfront, in what he imagined would become a thriving metropolis serving as the North American gateway to Asia. In pursuit of this, Hays ordered the construction of the Grand Trunk Pacific Inn in 1908, with the intention of eventually replacing it with a much grander establishment. Designs for the Chateau Prince Rupert were drawn up by architect Francis Rattenbury (The Empress), and foundations were laid in 1910. When Hays died in the Titanic tragedy, the Prince Rupert boom lost its momentum, and the magnificent edifice, ready to cater to the city's elite, never came to fruition. In fact, the town became stagnant. The post-war boom of the '50s saw an uptake in the town's growth, but it never achieved the scope that Hays had imagined. It remained a hardworking Canadian port town for the first half of the century.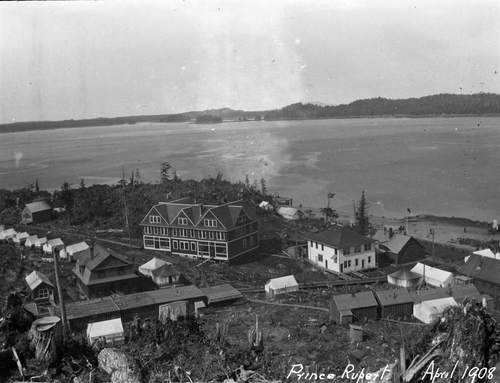 In 1961, Bill and Gwen Murray, along with four friends (Percy and Margaret Knutson, Tony and Gladys Bussanich), set out to realize a crazy plan. On a stretch of "useless" shoreline at the north end of town, Bill envisioned a high-end motor lodge –one that could showcase Prince Rupert's hospitality at a level no other hoteliers could match.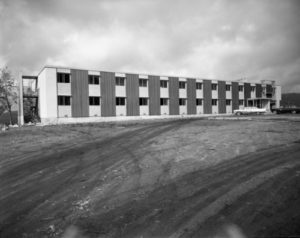 But, as Crest CEO Steve Smith puts it, Bill had an uncanny ability to "dream it, believe in it, and achieve it." They broke ground in 1961, and within a few short years, already had cause for expansion. The Crest Motor Lodge was a success!
The Prince Rupert economy of the time was growing, but very slowly. Some new civic spaces were constructed; an industrial harbour (mainly used for coal and grain shipping) joined the pulp mill as a large employer. The town's major economic contributors were commercial fishing and forestry –not industries that attracted a lot of tourism. Although abundant with the incredible assets of the north coast: wildlife, nature, a deep harbour, and First Nations culture and history, Prince Rupert was still a relatively unknown and remote place. They already had a handful of sufficient accommodations, how could this town support such a foolhardy venture?
Originally 44 modern units on a bluff overlooking Cow Bay, the Crest added a restaurant in 1964. Offering formal, white-linen service, the Crest Dining Room provided guests and Prince Rupert locals with an elegant option for meal service, one that could rival the high-end establishments of much larger cities.
The popularity of the Crest led to a major renovation, doubling the number of guest rooms and increasing staff. In 1987, when long-time managers, Liz and Hugh Charbenal retired, Murray invited his son-in-law, Steve Smith, to fill their shoes. Steve was committed to learning everything he could from Bill, and ran day-to-day operations with enthusiasm and aplomb until 1999, when he stepped into the role of CEO.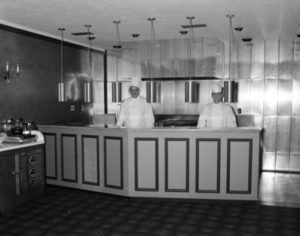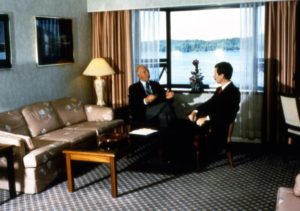 Under Smith's management, and under the subsequent direction of talented General Manager, Scott Farwell, the Crest has undergone many positive changes and innovations. Recognizing the needs of the contemporary clientele, the dining room was overhauled to be a less formal space, welcoming patrons for meals all day, while still providing the excellent service and fare that has made them famous. Several luxury suites were added, providing a high-end sanctuary for guests celebrating special occasions (or just treating themselves!). A block of executive suites, designed for long-term stays, caters to Prince Rupert business travellers. The staff of 90 provides earnest and friendly service, which has helped us to consistently earn a Canada Four Star rating.
The Crest has always been at the forefront of the hospitality industry. Since its inception, the owners and managers have demonstrated a keen understanding of their customers' needs, and an innate ability to provide it before anyone else.
This commitment to service and quality is one reason that the Crest has thrived, even in periods of economic difficulty for the city. The onset of the 21st century was a trying time in Prince Rupert, with long-term employers shuttering, and a significant decline in the population. But the Crest has remained a stalwart, here, a beacon of everything Prince Rupert has to be proud of.
The opening of the container port and the cruise ship dock has brought an enormous increase in business and traffic to the area, which has in turn helped spread the word about this quiet, beautiful community. Tourism now accounts for a significant portion of Prince Rupert's economy. Eco-Adventure outfitters, fishing charters, and the Khutzeymateen Grizzly Bear Sanctuary attract visitors from across the world.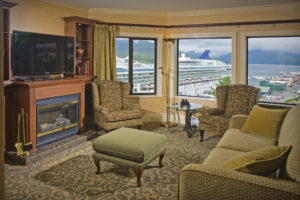 And the Crest is ready to welcome them all, with true North Coast spirit and renowned hospitality. Since 1961, when Bill Murray lit the first spark of potential, the Crest Hotel has been a gem that Prince Rupert residents could boast about.
We look forward to the future, and what the Crest will be!
---
Make a visit to beautiful Prince Rupert part of your story! Contact us to book your stay at the historic Crest Hotel.