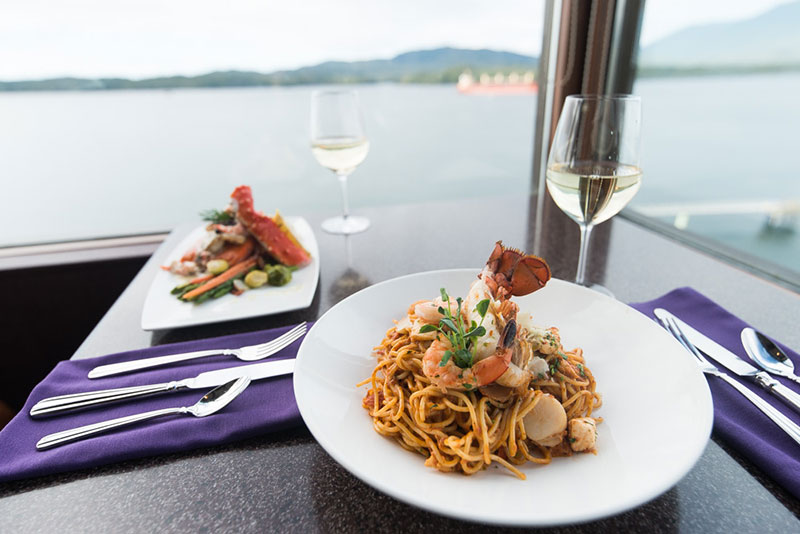 Dining Out or Staying In?
Whether you're visiting Crest Hotel for business or pleasure, one thing is a given – good food is a must! You won't have to look far for world class vino and international cuisines as Crest Hotel is also home to the award winning Waterfront Restaurant. Known for its breathtaking ocean views and for being Prince Rupert's best fine dining restaurant, you can sit in or enjoy takeout – room service style! Looking for something more casual? Check out Charley's Lounge for takeout or sit in appetizers, entrees, drinks or more!
We get that sometimes, you can be hungry but not interested in indulging in something too rich or heavy. We suggest putting together a handful of delicious bites to enjoy while you sip something decadent and melt into some well-deserved R&R. Spend your day strolling through the local shops and pick out some treats to put together the ultimate charcuterie-style snack to enjoy with a glass (or bottle) of the good stuff. We keep a well stocked wine list with a beautiful array of wines and spirits you can choose from to pair perfectly with your local luxury grazing board.

A Match Made in Heaven
We've put together a list of some of our favorite pairings based off of items on our wine list. Though our wine cellar boasts international flavours and brands, we wanted to feature some wineries that are local to British Columbia and held close to our hearts. 

Mission Hill Reserve Cab Sav – This intense wine has the classic cabernet suavignon notes of blackberry, blackcurrant, and cherry. You may also taste hints of liquorice and chocolate, touched with a nice round oakiness. Pair this lovely wine with fatty prosciutto, aged cheddar, and roasted cashews.

Burrowing Owl Syrah – Inhale deeply when you pour this wine and discover a fruity aroma of blackberry, blueberry, and plum. Taste the same berry and stone fruit notes, plus earthiness of leather and coffee. This rich, ripe Syrah paris incredibly with berry compote, lean meats, and smoked or extra-smoked cheese.

Poplar Grove Pinot Gris – This beautiful wine is one of the most popular offerings from the storied Poplar Grove. You'll get intense citrus notes, including lemon, grapefruit, and line. You might also detect hints of Okanagan stone fruit and a warm spiciness. Try a glass alongside fresh fruit, antipasti, or crudites.
Summerhill Organic Cipes Brut – A classic sparkling wine from one of the oldest wineries in Kelowna, you'll detect strong apple notes on your first sip. Keep on going to enjoy softer flavours of pear, almond, and classic toasted brioche. Pair a flute with roasted nut or brie cheese—or, for a fun treat, popcorn!
Crest Hotel is there for all your travel needs, whether essential business travel or a local (and well-deserved) staycation. Call the concierge at 1-800-663-8150 for assistance with making a reservation or book online today. We look forward to welcoming you to Prince Rupert.